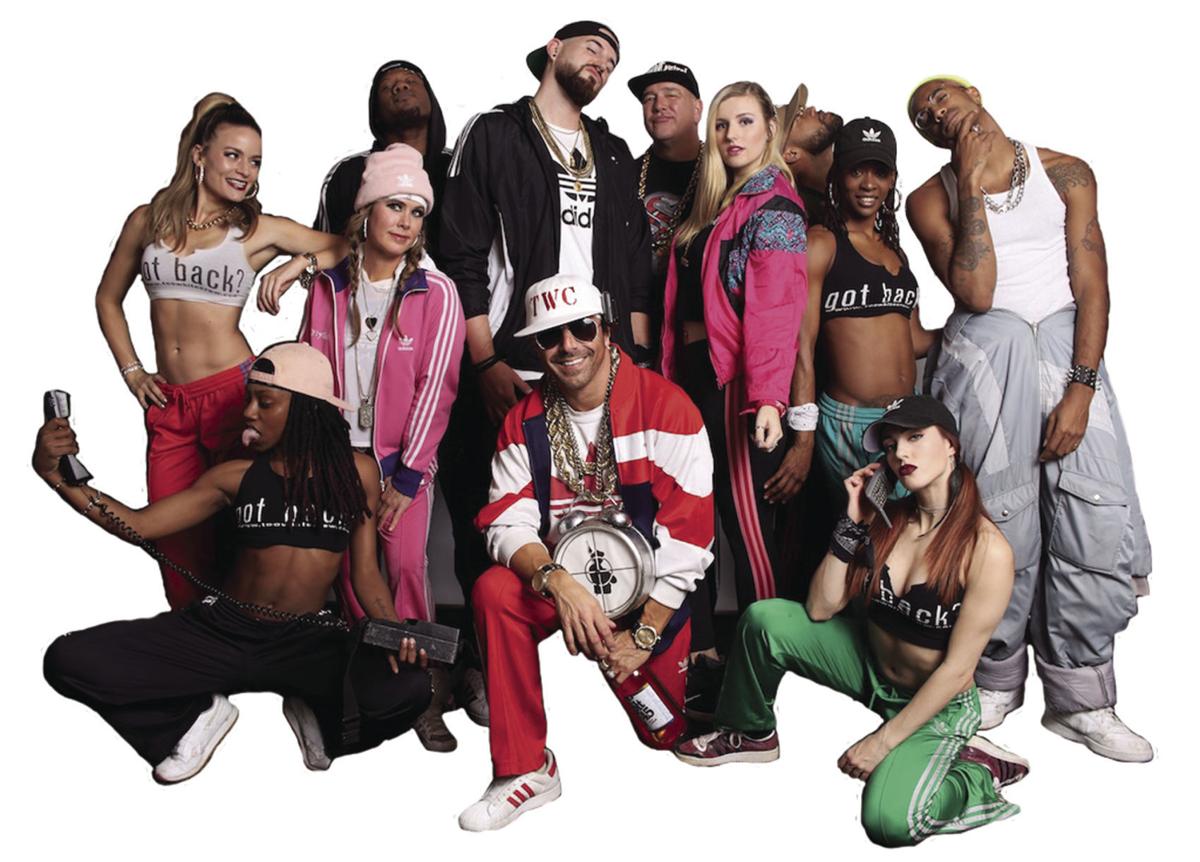 Editor's Note: Due to concerns over the COVID 19 virus, the March 14 show has been cancelled. 
ELKHORN — Old school hip-hop heads, your tribute band arrives Saturday, March 14.
Bringing back the beats that rocked blocks from the 1980s on through the early 2000s, Too White Crew closes out the Rock The Barns winter concert series at the Walworth County Fairgrounds.
This isn't the first time the Chicago-area party-starters have played in the area. Too White Crew has performed at Lake Geneva's Venetian Fest and Elkhorn's Ribfest.
But did you know this collection of MCs, dancers and musicians also played at the Playboy Mansion and opened for some of the biggest names in hip hop?
In the following Q&A, Too White Crew MC/founder John "C-Note" Cordogiannes gave us the 411.
Note: This has been edited for clarity.
Resorter: What was the first song hip hop song you heard?John Cordogiannes: Sugar Hill Gang, "Rapper's Delight."
How did it make you feel?I remember hearing it and thinking about how different it was from anything else. It lit the match for the popularity of the genre and the culture.
What sets Too White Crew apart in the local music scene?Eighteen years later, we're still the only band anywhere doing what we do, how we do it. We're super proud of that. While every market has, say, an 80s cover band, 90s cover band, country band, Motown band, tributes to different bands, if you haven't seen Too White Crew, you haven't seen anything like Too White Crew.
How much of the performances are live? Do you use any backing tracks?There are no tracks of any kind. It's 100% live. The drummer doesn't even play to a click track — which sometimes becomes obvious if he's had too many shots, ha!
Too White Crew has opened for some of the biggest names in hip hop. Who were some of the more memorable acts you shared a stage with?It's been incredibly memorable opening for each of them. The recent Flo Rida and Nelly shows certainly stand out. But so does the time Tone Loc got on stage with us to sound check "Wild Thing." Or when the Humpty himself (Greg "Shock G" Jacobs, of Digital Underground) sent me a custom-painted nose and glasses and a signed jacket because I once offered him my Humpty gear at a show where an airport lost his costume. Or when I looked out at the crowd at a show in West Hollywood and saw Darryl McDaniels, the DMC in Run-DMC.
How did you get the gig at the Playboy Mansion?We were doing a Halloween show in Chicago when someone came up to us and said, "What are you doing in two weeks?" I told him we're booked. He said, "Yes you are —with us," and handed me his card. It was the VP of Playboy. They actually wanted us to fly to Vegas for the grand opening of the Playboy wing at the Palms, but they later decided they wanted us at the Mansion for a party a couple months later. It was one of the most surreal experiences. They were filming "The Girls Next Door" at the time, so the whole night was nuts. We had dinner there, swam in the Grotto, played in the game room, toured the petting zoo, everything.
Why do you think people still enjoy 80s and 90s hip hop? Well, most of it was way more positive than current hip hop. It was also more inclusive. And it was GREAT party music. All of those things make 80s and 90s hip hop a great, nostalgic experience. Additionally, and I could be wrong here, but the generation who finds 80s and 90s hip hop music to be throwback music is the last generation who grew up listening the radio, where there was a large percentage of that generation who felt that music together. The wide variety of ways in which younger people are growing up listening to music today has created a much more segmented audience, so the audience base for tribute bands might be more fragmented in the future. People have so many more options than the two or three good local radio channels they had in the 90s!
Too White Crew plays Saturday, March 14, at the fairgrounds Activity Center, 411 E. Court St., Elkhorn.
Doors open 6 p.m. Tickets $10 in advance, $20 at the door if seats are available. Food and beer available.
Stay up-to-date on what's happening
Receive the latest in local entertainment news in your inbox weekly!