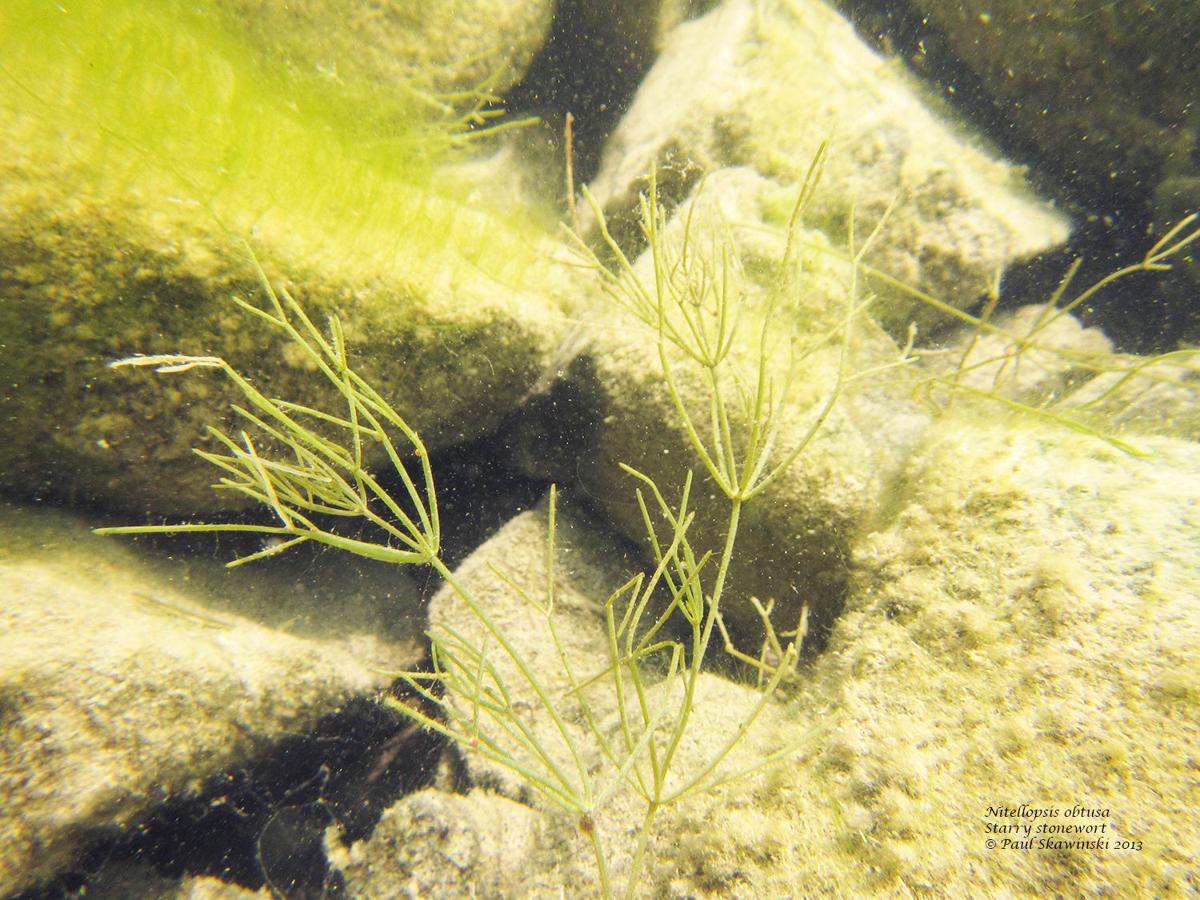 WILLIAMS BAY — Environmentalists have found a new invasive plant in Geneva Lake and are seeking state funding to prevent it from disrupting boaters or other lake users.
Known as "starry stonewort," the plant found this summer near the town of Linn is an algae that, left uncontrolled, can grow thick and dense enough to impact a lake's recreational potential.
The Geneva Lake Environmental Agency is requesting state funds to try to control the plant, and also is urging boaters and others on the lake to keep their eyes open for it.
Ted Peters, director of the Williams Bay-based agency, said he feels a sense of urgency to respond to the new invasive plant with a swift effort to combat it.
"You want to stifle it as quickly as you can — contain it or eradicate it," Peters said. "It can take over areas before you even know you've got it."
The environmental agency is requesting about $20,000 in "rapid response" funding from the state Department of Natural Resources through a program designed to help communities battle new aquatic invasive species.
The agency also has alerted boat companies and others on Geneva Lake that they can help control the spread of starry stonewort.
Cason Kirkpatrick, marina manager for Gordy's Marine in Fontana, said his company will include starry stonewort among the invasive plants and other problems that staffers watch for whenever boats return from lakes and rivers outside the area.
Kirkpatrick said he had never heard of the troublesome algae before, so he and others at the company are anxious to learn about it. Kirkpatrick looked into the waters of Fontana for any sign of starry stonewort as soon as he heard about it.
"It's kind of a shock to us — and a little of an unknown," he said.
The state DNR describes starry stonewort as a seaweed-like algae plant that becomes rooted in underwater sediment and then can grow large and bushy, forming thick mats that harm a lake's aesthetics and recreational uses.
Environmentalists are unsure of other potential risks from finding the plant in a lake.
Officials say that chemical treatments have proven ineffective, and removing the bushes by hand has delivered only short-term results.
Amy Kretlow, an invasive species specialist with the DNR, said the first known detection of starry stonewort occurred in 2014 in Little Muskego Lake in Waukesha County.
Since then, it has turned up in about a half-dozen other lakes in Door County, Racine County, Waukesha County and Washington County.
Kretlow said efforts at containment have succeeded in knocking down outbreaks to what she termed "respectable, manageable populations." But the state has not found a way to rid any lake of the unwanted algae entirely, she said.
"We have not had any successful eradication," she said.
A lake-management consultant conducting work on aquatic plants in Geneva Lake this summer discovered starry stonewort in the Trinke lagoon, which is an area on the southern shore of Geneva Lake near the town of Linn.
Peters said it is possible the invasive algae is growing elsewhere in the lake, especially if a boater unknowingly carried some of the plant into Trinke lagoon — or out of it.
"I wouldn't say that's the only place it is, because we haven't looked for it," he said.
If the state approves funding, the Geneva Lake Environmental Agency hopes to lead an effort within the next month to search for starry stonewort, and to try combating it.
Peters said he was working to complete an application for DNR support.
"I'm trying to keep this thing moving forward as fast as we can," he said.
Until then, environmentalists are urging lake users to remove vegetation and mud from their boats, trailers and anchors as a way of preventing the spread of invasive species.
Kirkpatrick said Gordy's Marine is eager to do whatever it can to help keep the lake clean and healthy.
"We're going to need a lot more information," he said. "We want to control the situation as much as anyone else."
Be the first to know
Get local news delivered to your inbox!