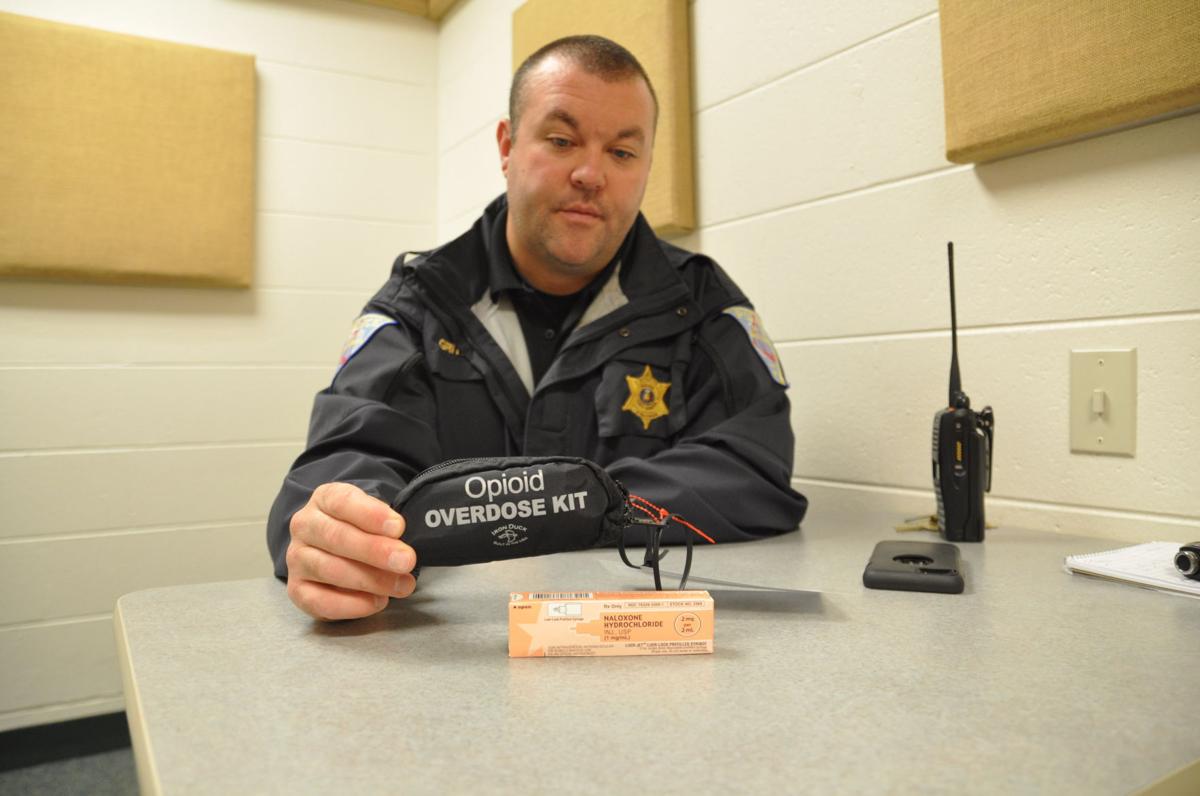 As the opioid epidemic surges in Wisconsin and elsewhere, the antidote for overdoses of such drugs as heroin and oxycodone is now in the nurse's office of one local school.
Badger High School in Lake Geneva is now stocking a free dose of Narcan, which is kept by the school nurse.
Narcan is the brand name for Naloxone, a drug that is sprayed into a person's nasal passages to reverse the extreme drowsiness, slow breathing and other potentially fatal effects of narcotic drugs known as opioids.
Jim Gottinger, superintendent of Badger High and the Lake Geneva Area Elementary School District, said he believes the high school received its Narcan this fall from a drug company.
"We haven't used it, and hopefully never will," he said.
In July, state law was changed to allow school district employees, volunteers and school bus drivers throughout Wisconsin to administer Narcan or other life-saving opioid antidotes to students or anyone else experiencing an overdose.
The move to enlist schools in the battle against opioid abuse comes as national figures from President Trump on down seek solutions to an epidemic involving prescription drugs and illicit narcotics such as heroin.
Nonissue
Although Badger High is arming itself against overdoses, other local school superintendents are not ready to take that step.
"At this point, we're not aware of any of our students that would have that issue," said Wayne Anderson, administrator of the Williams Bay School District.
The new state law does not require schools to adopt a policy on giving someone the antidote, sometimes called an "antagonist," nor does someone need training or consent from an overdose victim. It does, however, require anyone administering the antidote to report it to 911 or emergency services.
According to the Centers for Disease Control and Prevention, 91 Americans die every day from an opioid overdose.
At Badger High, registered nurse Laurie Collins has been trained to use Narcan.
But so far, Badger and high schools in Delavan, Walworth and Williams Bay report that they have not had any overdoses on school property.
Other high schools do not keep Narcan on site, but school officials say they work closely with outside agencies that use the opioid antidote.
Louise Wilson, school nurse and health services consultant for the state Department of Public Instruction, said that is likely the approach many schools throughout Wisconsin are taking toward the opioid crisis.
DPI's stance, Wilson said, is that each district should consider whether it needs to train its employees to use opioid antidotes.
"Some might not see it as much of an issue," she said.
Monitoring
Area public school superintendents and administrators said they are monitoring the situation.
"I think, at this point, we're pretty well covered," said Robert Crist, superintendent of the Delavan-Darien School District.
He said his high school has a full-time police liaison officer, and the middle school has a part-time liaison officer.
Delavan police and paramedics carry Narcan.
Doug Parker, superintendent of Big Foot High School in Walworth, said the fundamentals behind the idea of stocking Narcan on campus are positive, even potentially life-saving.
However, Parker said he is still vetting the idea before he brings it to the school board for discussion.
"We just want to make sure that, if we implement it in the community, we want to do it right," Parker said.
The state law change affects all public schools in Wisconsin, including K-8 districts, with students in their preteen years.
K-8 administrators in the Lake Geneva area said they do not see evidence of the opioid crisis creeping into their schools — or any need to keep Narcan on hand.
"Because of our younger population, we don't feel that there is as much urgency at this point," said Kellie Bohn, superintendent of Brookwood School District in Genoa City.
Samantha Polek, administrator of Reek School in the town of Linn, said there is no evidence of drug use in her school. Officials take direction from local police in student safety matters, Polek said.
"If we had any inkling of the need for us to administer this medication, we would take the steps necessary," she said.
Said Mark Pienkos, interim administrator for Traver School in Linn: "No students have shown any indicators that they may have an opioid issue, nor have any families contacted us with concerns for needing opioid antagonists."