Want the getaway feeling of camping without the hassle of setting up a tent?
A new rental property in Lake Geneva offers a place where people can camp indoors, complete with all the modern-day amenities often forsaken by those camping in the traditional sense.
It's called "glamping," a term for camping with all of the luxuries of being inside.
Representatives from Keefe Vacation Rentals are opening a glamping vacation rental property at 703 W. Main St., Lake Geneva.
At the property, there are five indoor tents that can sleep two people each, plus bar area with swings for barstools, a kitchen area, large dining table, plus wall art and a pull-out couch.
"I was trying to bring the outdoors but in a fun, classy way," said Samantha Strenger, of Keefe Vacation Rentals.
Strenger developed the glamping idea while attending an African safari trip last year.
"We stayed in these beautiful white bell tents that were done up like high-end hotel rooms, so that's how it came to be," Strenger said. "I thought, 'Why not put beautiful tents inside this loft and have it as a commercial lodging space for one group for special events?'"
Strenger said she presented the idea to Tom Keefe, president of Keefe Rental Properties, Inc., when she returned from her safari.
"The travel trends are going towards people looking for different lodging options, and one of them is more of the Airbnb unique experiences," Keefe said. "We feel this one will deliver that for people who want to look for something different than a hotel type of experience."
The Lake Geneva City Council also went for the idea, approving the conditional use permit for the glamping facility last winter.
Strenger said it is a place for groups wanting to celebrate a wedding, bachelor party, birthday or other special occasions.
Guests are asked to stay at least two nights, and each booking must be for one group.
"We're not renting individual tents to different groups," Strenger said. "It's for large groups, and generally they would be coming into town to celebrate something. That's what we've seen so far with our bookings."
The glamping facility is set to open during the first weekend of May.
Strenger said many have expressed an interest in staying, as most summer weekends are booked already.
"It's generated interest, which makes me feel good, but I didn't know what people would think of this glamping concept," Strenger said. "It seems to be a place where people want to stay. It's caused quite the stir on social media with over 100,000 views, which is pretty wild."
In addition to the amenities at the facility, guests can also enjoy the restaurants, shops and tourist attractions in downtown Lake Geneva.
"All of the people staying here are going to be shopping on Main Street and visiting all of our local restaurants," she said.
Officials from Keefe Vacation Rentals plan to establish other themed vacation rental properties in the near future, including a lodging facility in which the rooms are themed as major cities in the United States including New York, Chicago and Los Angeles.
"We're developing a few other ones in the City of Lake Geneva that's coming online in the next month or two," Keefe said. "This is the first one we got ready, so we got a couple more coming."
Strenger said she has noticed, during the past few years, that more people are staying at vacation rental properties as a lodging option.
"For our main demographic, you can get multiple hotel rooms somewhere or everybody could stay in the same place," Strenger said. "So I think that's why it is appealing."
For more information about the glamping facility or other Keefe Vacation Rentals properties, visit www.keeferentals.com.
In photos: The newest 'glamping' option in Downtown Lake Geneva
The indoor "glamping" lodging facility includes a living area and artwork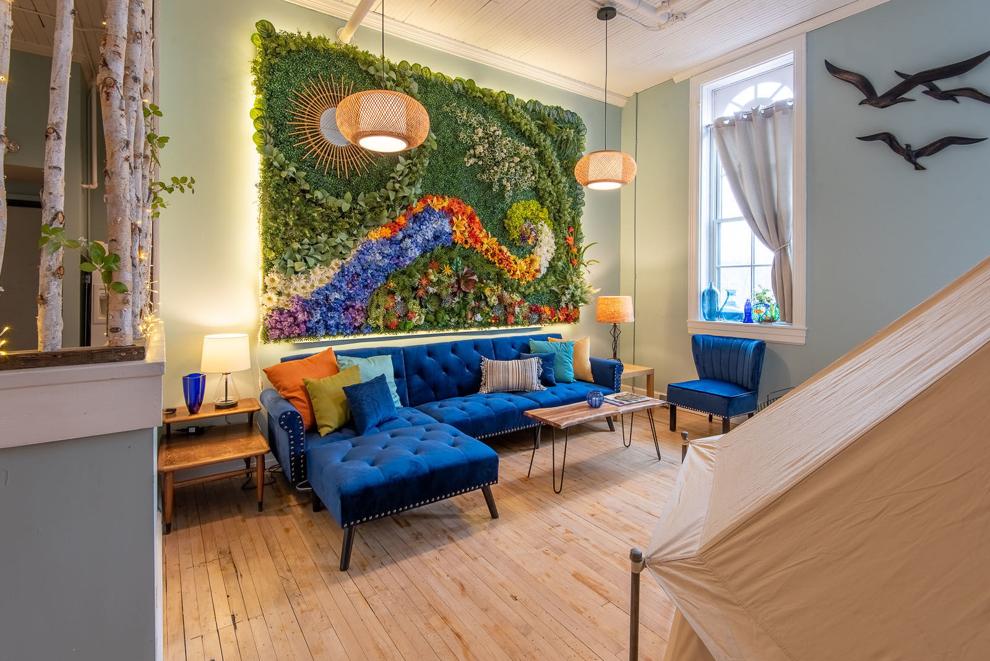 A "glamping" vacation rental property in downtown Lake Geneva features five indoor tents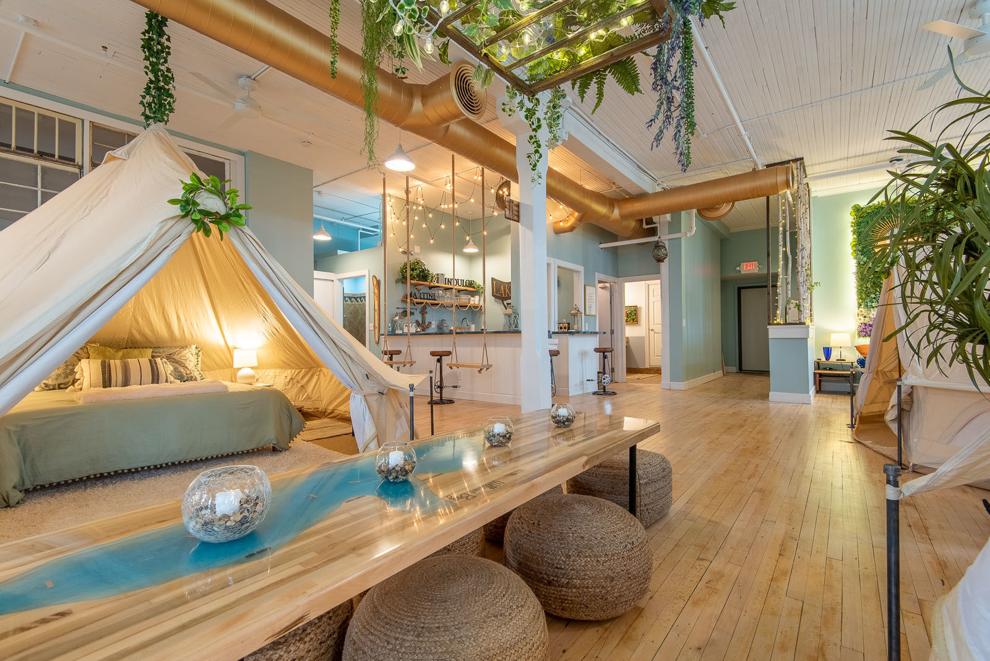 Keefe Vacation Rentals street view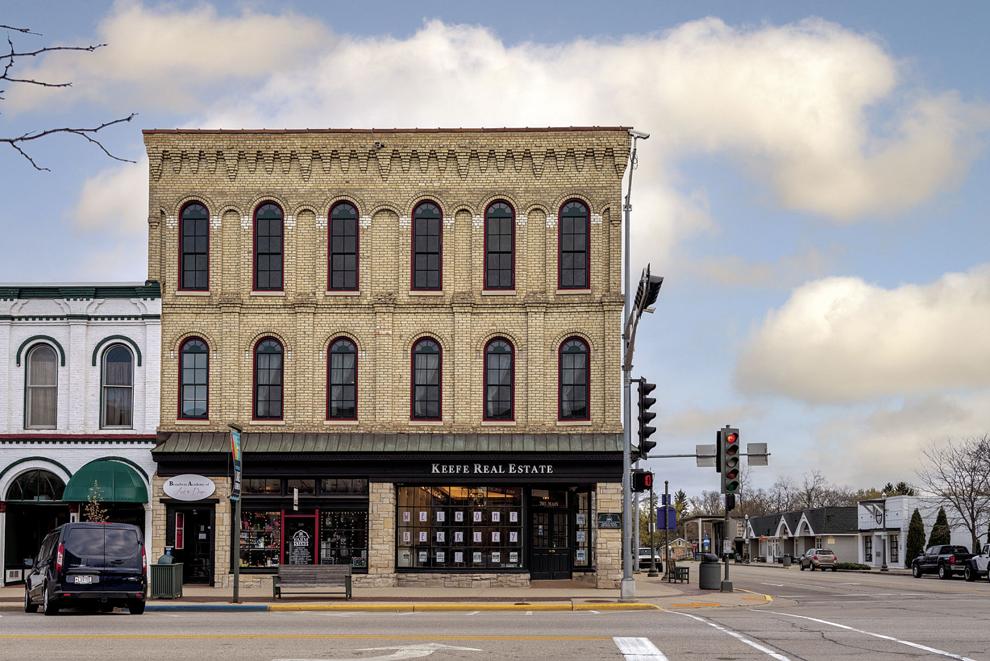 From the tent in Keefe's new glamping loft
Keefe Vacation Rental's new "glamping" lodging facility includes a bar with swings as barstools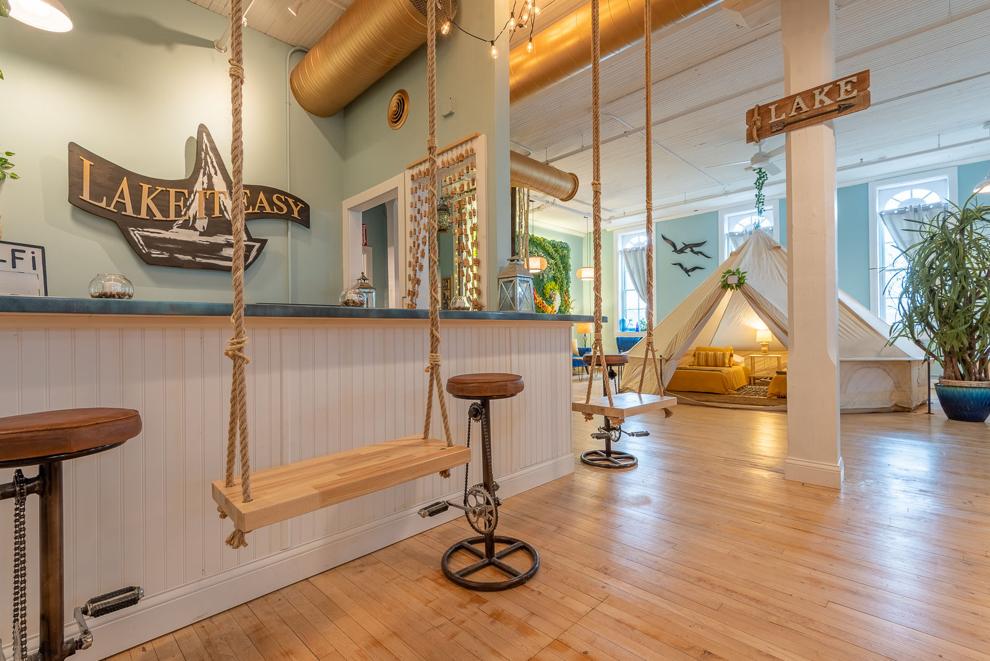 Keefe Vacation rental's new "glamping" facility includes a sign that lists the definition of "glamping"