WILLIAMS BAY — An effort to transform part of the Yerkes Observatory campus into lucrative residential development is being postponed for closer scrutiny and greater debate.
The director of the Kenosha Public Museum is urging village officials to allow an archeological survey to determine if the lakefront site near Yerkes contains significant native American artifacts.
Museum director Dan Joyce said native Americans often operated camps, trading posts or gathering places on lakefront sites similar to the Yerkes campus property now being considered for construction of new homes.
"This is the last lakeshore that has not been destroyed by modern development," Joyce told village officials, "and the last chance for learning about native Americans on the lake."
The University of Chicago, which recently donated the shuttered Yerkes Observatory to a private foundation, is asking Williams Bay to allow residential development on eight acres of adjacent lakefront land that the university hopes to sell.
The Williams Bay Village Board on July 22 voted instead to table the proposal requiring an amendment to the village's comprehensive plan.
Village board members cited a need for additional information and a desire to permit more public comment on the Yerkes campus proposal.
Board member Jim D'Alessandro said he was disappointed with how the review process has been handled so far, and he wants to postpone village action until after a public hearing in which people are allowed to attend and voice their feelings in person.
D'Alessandro referred to a March 10 gathering attended by more than 100 people where the Yerkes Observatory donation was announced.
"I think we should wait to have a regular public hearing where people can again fill a public auditorium," he said.
The University of Chicago, which operated Yerkes Observatory for more than 120 years, announced in March it was donating the historic facility to a private foundation hoping to reopen the observatory as a public attraction.
As part of the deal, the university retained about eight acres of lakefront property, as well as another three-acre lot, which university officials hoped to sell for private residential development.
The three-acre lot at 415 Grandview Ave. has already been purchased by Mike and Anita O'Brien. Village officials unanimously agreed July 22 to allow the O'Briens to go forward with their plans for that property.
The O'Brien's told the village that they plan to preserve and restore an existing structure on the site.
Dianna Colman, director of the private Yerkes Future Foundation, said her group fully supports the O'Brien project near where the foundation is pursuing its plans for the observatory.
"We could not have selected a better neighbor ever," Colman told village board members.
The university's plans for the other eight acres, however, continue to draw questions and skepticism.
University representatives sought to assure village board members July 22 about the lakefront proposal.
Tracey McCabe, associate vice president of the university, said university officials are interested only in selling the land, not developing anything of their own.
McCabe said the village would have opportunities to review construction plans submitted by buyers of the prime real estate.
"The university is not seeking to develop these lots," he said. "We are submitting these applications as a landowner, a provider, and, importantly, not as a developer."
Under the university's application for village approval, the lakefront property would be divided into three lots, with a home built on each, overlooking Geneva Lake near Yerkes Observatory.
University attorney Nicholas Egert told village officials the development plan would align with nearby properties that are also residential.
In response to questions about whether the lakefront lots slope too much down toward the lake, an architect for the university assured village officials that the lots would be buildable.
Others weighed in on whether the village should approve the comprehensive plan amendment allowing the university's plan to go forward.
Greg Trush, a former village board member, cited the concern about native American artifacts, saying he has evidence that valuable archeological relics left by Native Americans may be present on the property.
Trush said a survey should be conducted before any development is started.
"This is an opportunity for scientific research," he said, "and favorable publicity that can realized without expense to the village or any new property owner."
A military statue that is about to be placed next to a veterans memorial in unveiled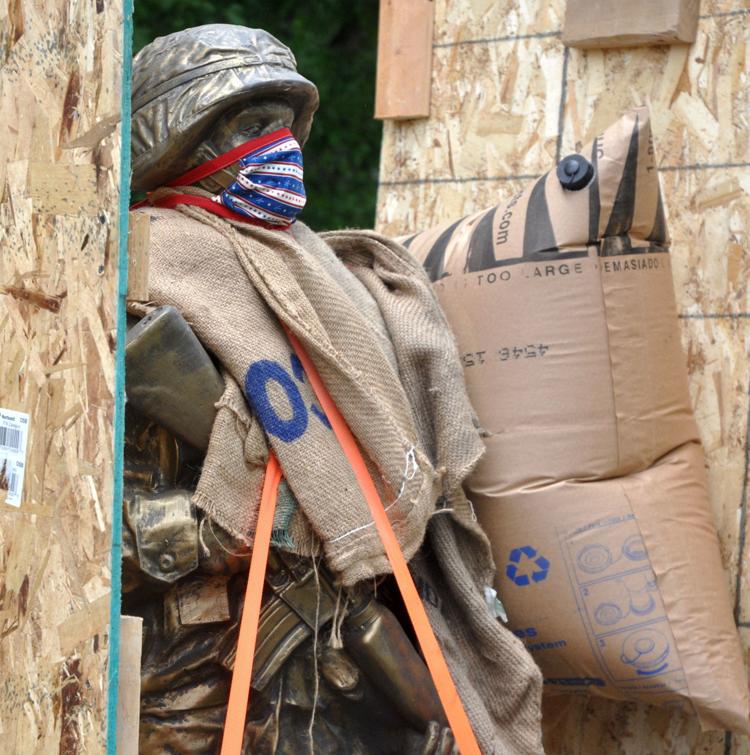 A group of Bloomfield residents gather around a military statue that was installed in the community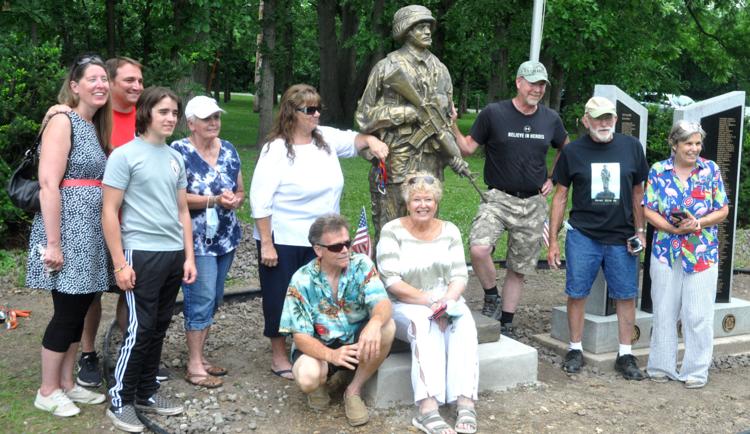 Darlene Olenoski and Richard Olenoski of the village of Bloomfield stand next to a military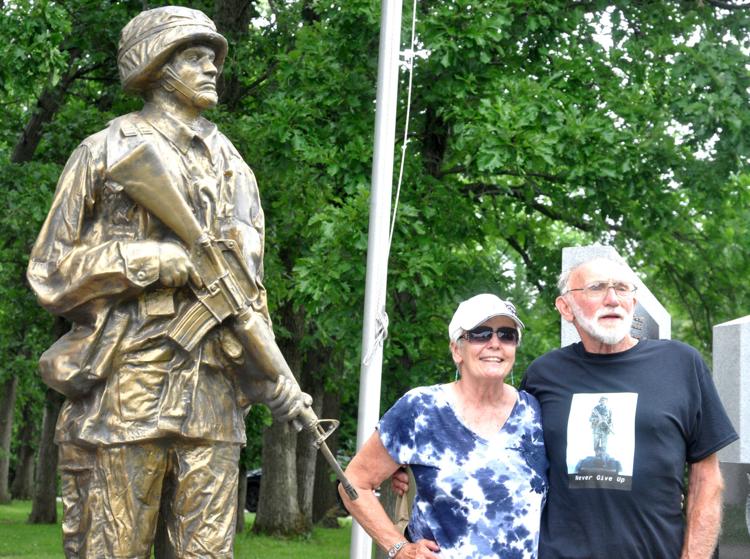 Richard Olenoski looks over a military statue that he and other Bloomfield residents help bring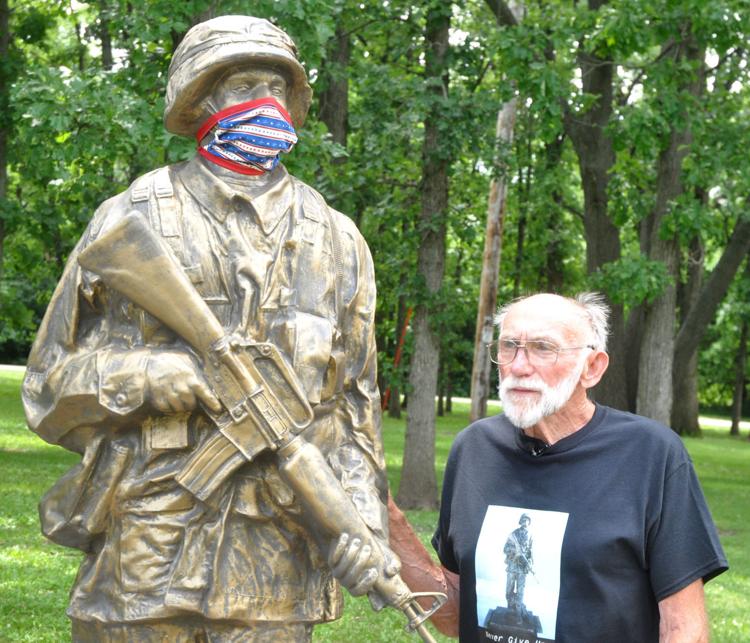 David Speedling, co-owner of SVJ Creative Designs in Minnesota, gives a "thumbs up"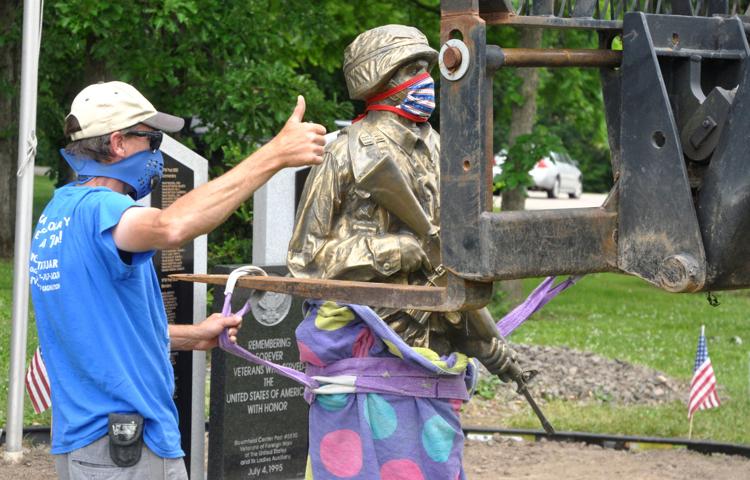 David Speedling, co-owner of SVJ Creative Designs, left, and Michael Brittain, Bloomfield municipal judge.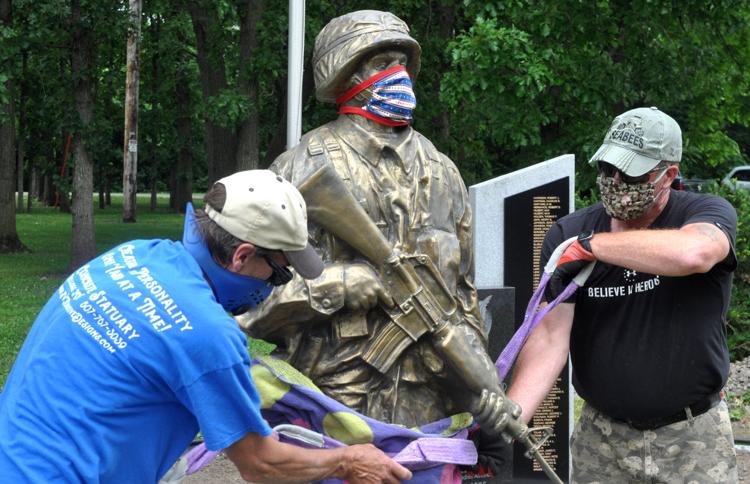 A statue, depicting a military soldier, is unveiled as it is being prepared to be installed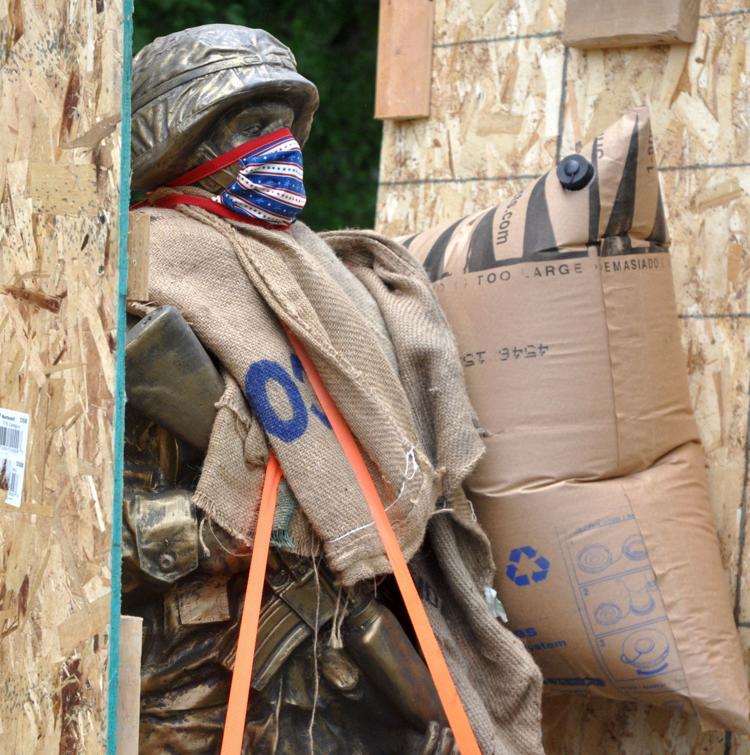 David Speedling, co-owner of SVJ Creative Designs, drills a hole in a large, wooden box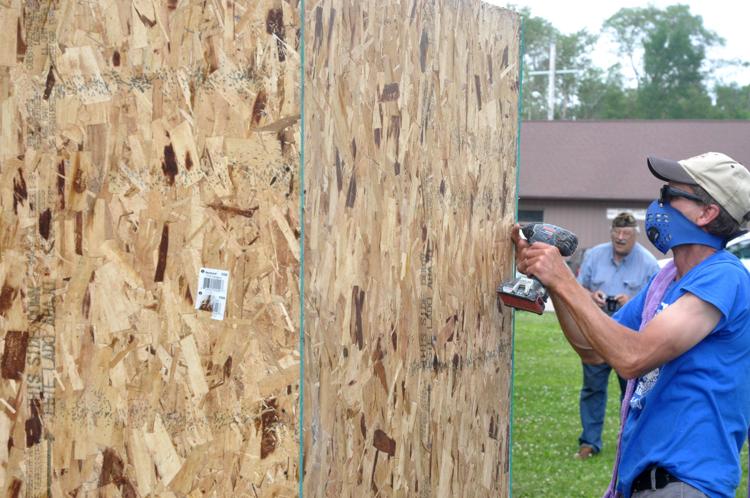 David Speedling, co-owner of SVJ Creative Designs, left, and Michael Brittain, Bloomfield municipal judge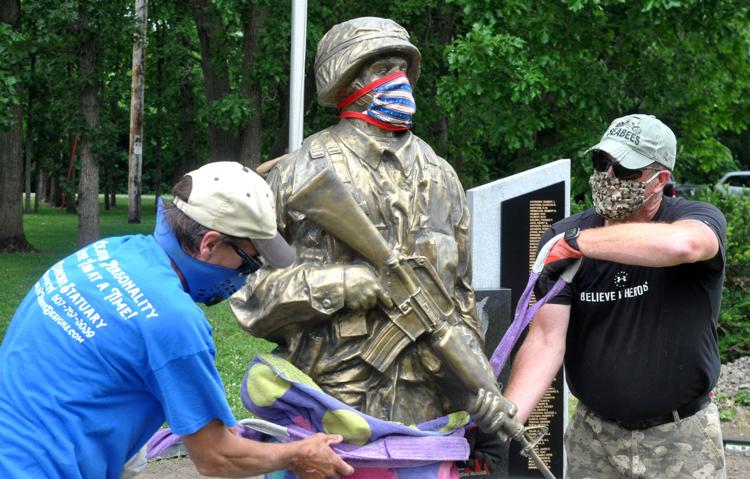 Myles Swanson prepares to lift a military statue onto a forklift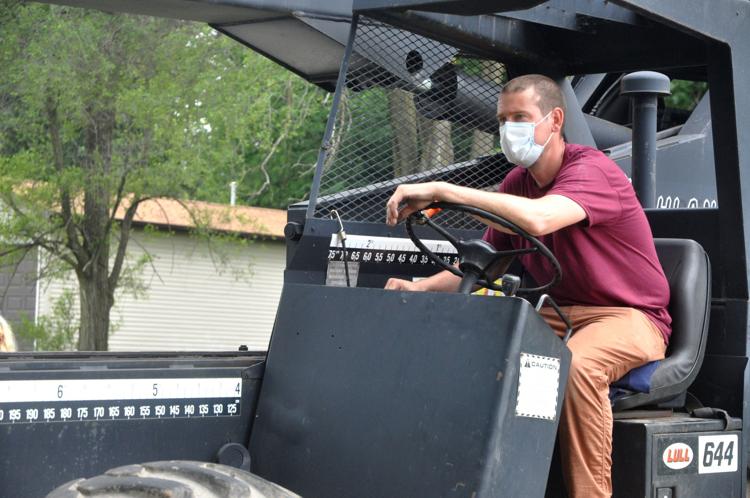 Myra Gallagher takes a photograph of a veterans memorial in the village of Bloomfield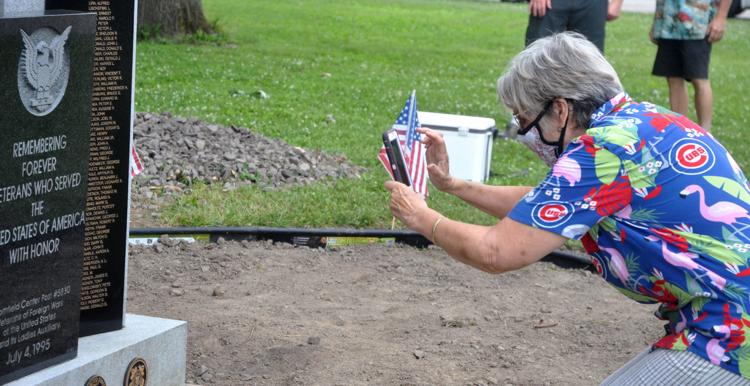 David Speedling, co-owner of SVJ Creative Designs, shows photographs of some of the statues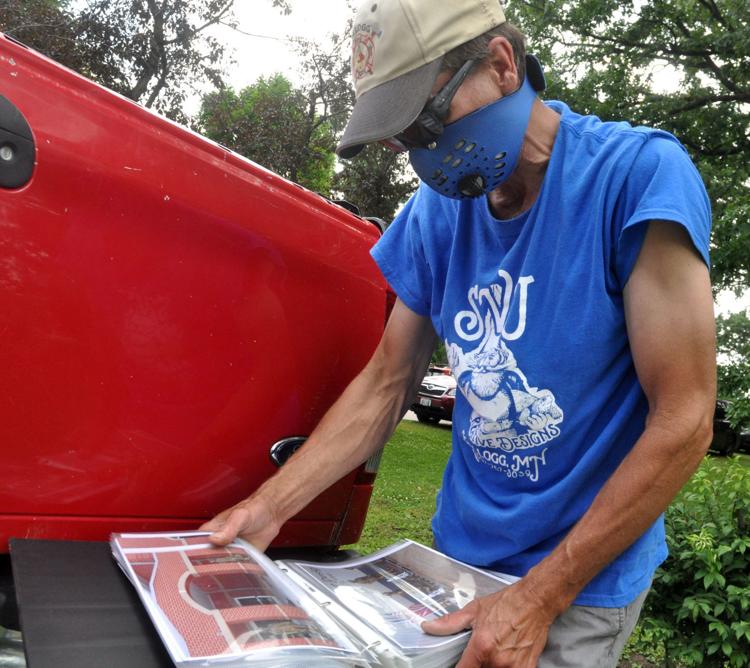 Get local news delivered to your inbox!
Subscribe to our Daily Headlines newsletter.