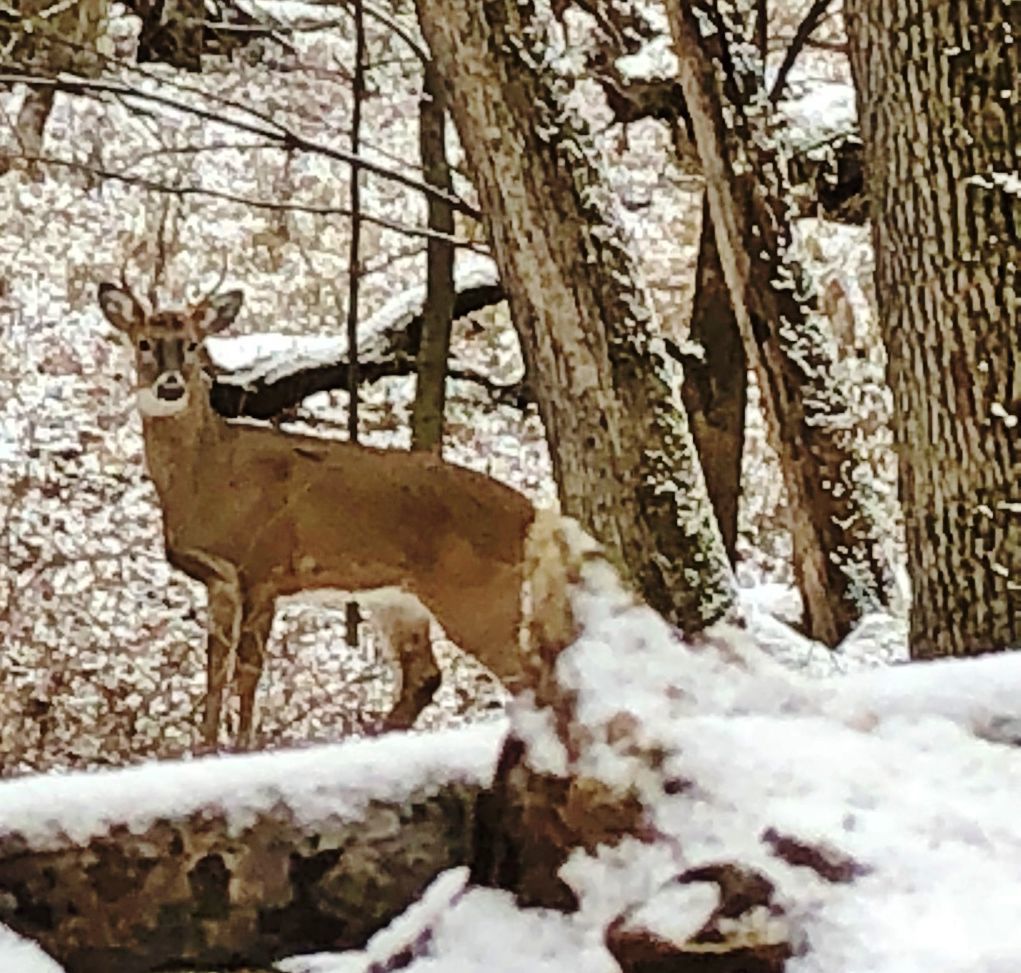 MADISON — The sun was still below the horizon as I settled into my deer stand. A light dusting of snow covered the ground. The temperature was in the upper-20s on Nov. 17, 2018 — perfect for the opening morning of deer hunting in Wisconsin.
I poured myself a cup of coffee from the thermos that once belonged to my grandfather, who hunted those lands. I sat still with my back against a tree and watched daylight creep into my valley.
Life is a journey of lessons. Some we learn, some we forget, and some we need to be taught again and again because some of us — like yours truly — have a slightly slower informational uptake.
This year, I resumed my annual learning retreat in the woods with my 44th season of gun-deer hunting. It's actually closer to 50 if I count the years I participated in deer drives.
This was my dad's 70th season. He, too, has never missed a hunt, even in the early days when deer were scarce. Back in the late 1940s, Wisconsin's deer population was just recovering from a few Depression-era years when there was no hunting season in the state. It was quite unusual when my grandfather, Keith Hardie, shot a buck on our family farm in western Jackson County.
Dad's first few years of hunting were in the public-forest lands east of Black River Falls. In 1949, the state had a peculiar season where any deer could be harvested — with the exception of bucks with more than a 2-inch fork. I've heard stories about big bucks that were shot and left untagged.
But the deer population grew. In 1950, the state held its first "any deer" season since 1919 and 167,911 deer were killed — the nation's largest whitetail harvest. In 1951, a deer-hunting license with a tag cost $2.50. In 1956 — the 100th regular gun-deer season in Wisconsin's history — the registered buck kill was 35,562.
For comparison, last year 106,038 bucks were harvested, with the total kill of 219,715 deer in the nine-day gun-deer season.
Deer hunting is my opportunity to unplug — if only for a few hours — from the hectic pace of life. It's a time of peace and reflection.
Shortly after I settled into my stand last year, a light breeze drifted through the valley, rustling dried oak leaves still connected to branches. My eye caught one leaf that lost its aerial perch. It started to float downward, riding a waft of air for a bit before falling on the forest floor.
Suddenly I felt sad. The leaf reminded me of my own mortality and of the loved ones around me. Another year had passed. We grow old, still clinging to the branch of life, not knowing when our time will be to let go.
My momentary melancholy brightened when I heard leaves crunching. I observed a small buck coming down the hill toward my stand. I watched him for at least 20 minutes as he came within a few yards of where I sat. I chose my camera rather than my gun.
The next day, a larger buck came near my stand, and I successfully filled my tag. Even better was the opportunity later in the season to spend a few hours in the stand with Dad to share a few stories.
Hunting is about appreciation and gratitude. Nature treats us all the same. No matter how rich or poor or what we've accomplished in life, in the woods anyone is just another hunter huddled under a tree hoping for a big buck to cross that path.
Hunting has taught me humility, the virtue of patience and a deep appreciation for creation, bundled with the value of tradition and family. It's not the thrill of the kill that draws me to hunting, but the time I've spent in the cold November woods sitting by my grandfather, my father and my son, sharing a bond that transcends the pulling of a trigger.
The good Lord willing, I'll be around for a few years to share hunting time with my grandsons. I have some great stories to tell them.
Chris Hardie spent more than 30 years as a reporter, editor and publisher. He was nominated for a Pulitzer Prize and won dozens of state and national journalism awards. He is a former president of the Wisconsin Newspaper Association.