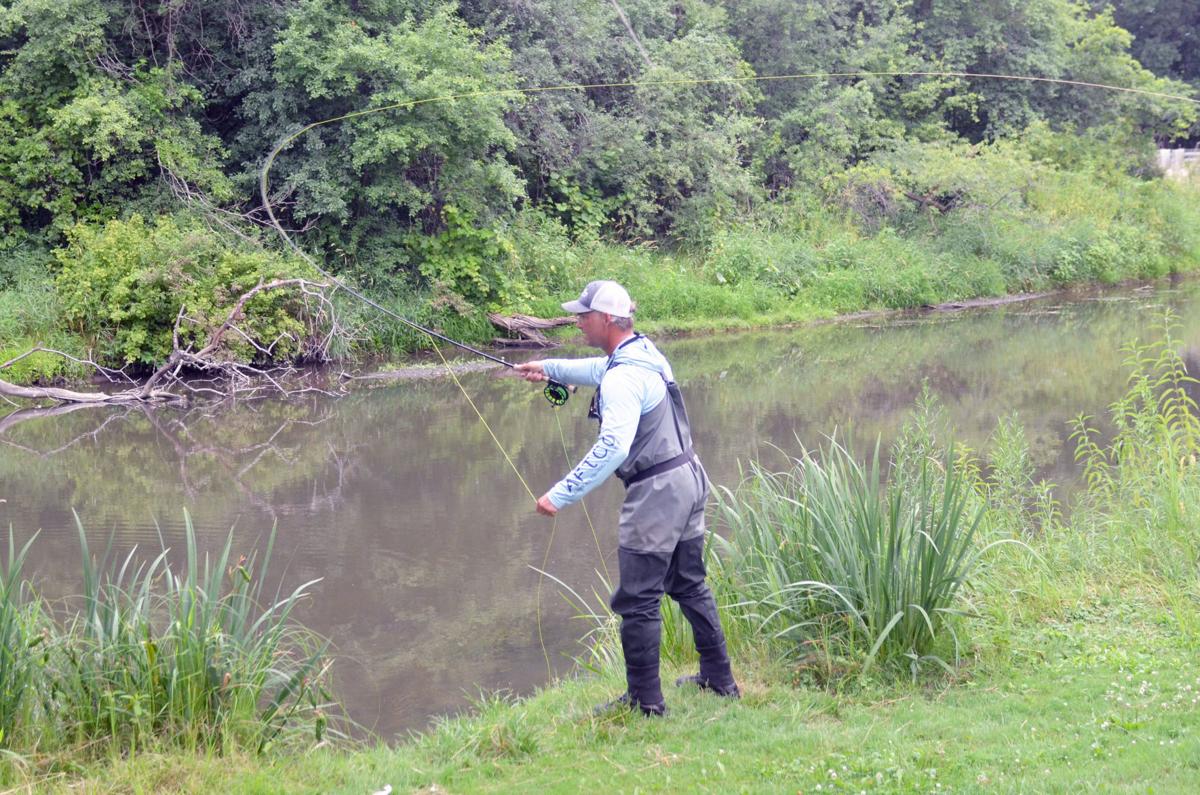 For the past three decades, George Kaider has had two passions: teaching and fly fishing.
Now, he has found a way to merge those two into a new business.
Kaider, a Lake Geneva native and the owner and operator of In the Flow Fly Fishing Guide Services, takes locals and visitors through the creeks and rivers of southeastern Wisconsin, giving a longtime local's trip to all the best spots to hook the area's biggest fish.
Unlike many fishing guide services, which cater only to experts, Kaider also offers training days for newcomers to the sport.
With 30 years under his belt as a teacher, coach and counsellor at Mundelein High School in the Chicago suburbs, imparting the ins and outs of fly fishing has practically become second nature.
"I talk to each client on the phone, we discuss goals for the day. I get to assess their ability over the phone and their experience, and just build the day around their goals," Kaider said.
Kaider has first-hand experience in the importance of learning the ropes of fly fishing. Unlike many anglers, who learn how to fish from a friend or family member, Kaider was self-taught, which he says led to some rough outings stuck in trees or breaking poles.
He stuck to it and eventually became a well-polished fly fisherman, thanks in part to many hours spent wading through rivers across the state.
When describing his philosophy on teaching others to fly fish, he likens it to another sport.
"It's similar to golf where you don't hand somebody a bag of clubs and some balls and say 'hey, go out to Geneva National and golf 18,'" Kaider said. "A whole instructional day plan for beginners starts with land casting, then goes to wading, then we do an afternoon float."
That does not mean that all his clients are newcomers. Kaider takes out plenty of veterans as well, with an even mix of locals and out-of-towners making up his list of clientele.
Whether he is out guiding familiar faces, or people he has never met, Kaider always has at least something in common with all his clients: a love of fly fishing.
"I was able to take out two buddies who were in Chicago for work and they're from Argentina. That was really neat," Kaider said. "They were great fly fishermen. So that helped me because we could talk a similar language through fishing even though communication was sometimes difficult."
After many years of Kaider guiding friends and family to his favorite fishing spots, this year was the first time he did it as part of an official business endeavor. While he still works full-time as a teacher, Kaider will be spending his weekends and summers running In the Flow.
Prospective clients can reach out to Kaider, who will work with them to figure out which days and times work for their schedule along with his. While Kaider offers guided trips seven days a week, he often has trips booked far in advance and he likes to take a day off here and there, so finding a time that works for all can involve some back-and-forth discussions.
Whether he is out with a client, or just fishing on his own, Kaider's main goal is never to catch as many fish as possible. Instead, it is to take the name of his business to heart.
"Getting in the flow, that psychological point where time stands still, is a very special thing. It's a pretty important part of the sport for me," Kaider said. "It's the rhythmic motion of casting, trying to hit targets, the anticipation of that fish. But it's about finding a rhythm and a flow that you forget what you're doing, forget your problems, forget life for a day."